FOFA: The Versatility of Virtual Content Types
By Matthew Jones • Jul 26, 2019
In our FOFA blog series, after first learning about FOFA's (aims, needs and raison d'etre) we then went on to understand how custom microsites such as their Press Portal was created. In this blog, we will now go on to focus on how they populated this portal, as we take a closer look at how to easily publish press kits based on content stored or created within the Content Platform.
Before we go into more detail about virtual content types, it is first important to understand how they function and why they are used.
Understanding Virtual Types
Virtual types enable users, in this case FOFA editors, to easily create content that is strictly structured to meet a specific need. These virtual content types define the schema and rules for content that is both contained within files and is fileless.
Using the Content Platform, virtual content can be metadata managed. via layers, in the same way as files. With this, it is possible to tag and categorize the virtual content without restrictions; controlling its workflow.
Virtual types have many different uses and some examples of these include job listings and landing pages. However, their uses go far beyond this, they can also function as master content (MDM) too. Examples of this include: reusable text blocks such as disclaimers, boilerplates, and messaging blurbs. All of which are manageable via dedicated virtual types. However, in this specific case, FOFA used them in three key areas: press releases, press kits and news items.
A press kit, also known as a media kit, is a pre-packaged set of information that provides information about a news release and anything else related to it. This is all controlled and tied (linked) together in this case via a virtual content item. By doing so, a press kit provides a journalist with all the information they require to create a compelling and media-rich story. This means that they can shorten the overall time spent on researching additional information. As a result, a journalist may be more likely to cover the content in their publication, as they have an easy-to-access 'full story' readily available.
An example of the structure of a press kit would be as follows:

Headline.
Summary of the news.
Press release text.
Press Release(s), as a pdf, attached.
'About us' Company/Organisation boilerplate text.
Additional resources such as logos, flyers/brochures and any background reading.
Two press kits may contain different content but the overall content structure will remain identical.
Two press kits may contain different content but the overall content structure will remain identical. Each of the four 'content blocks' listed above would need to adhere to specific rules, which is important, as the Content Platform works using Strictly Structured content. This Strictly [defined] Structure applies in multiple areas such as to: the length of text that can be entered or the types of file/other virtual items that can be "attached" (e.g. only approved content types) and other factors which can be defined too.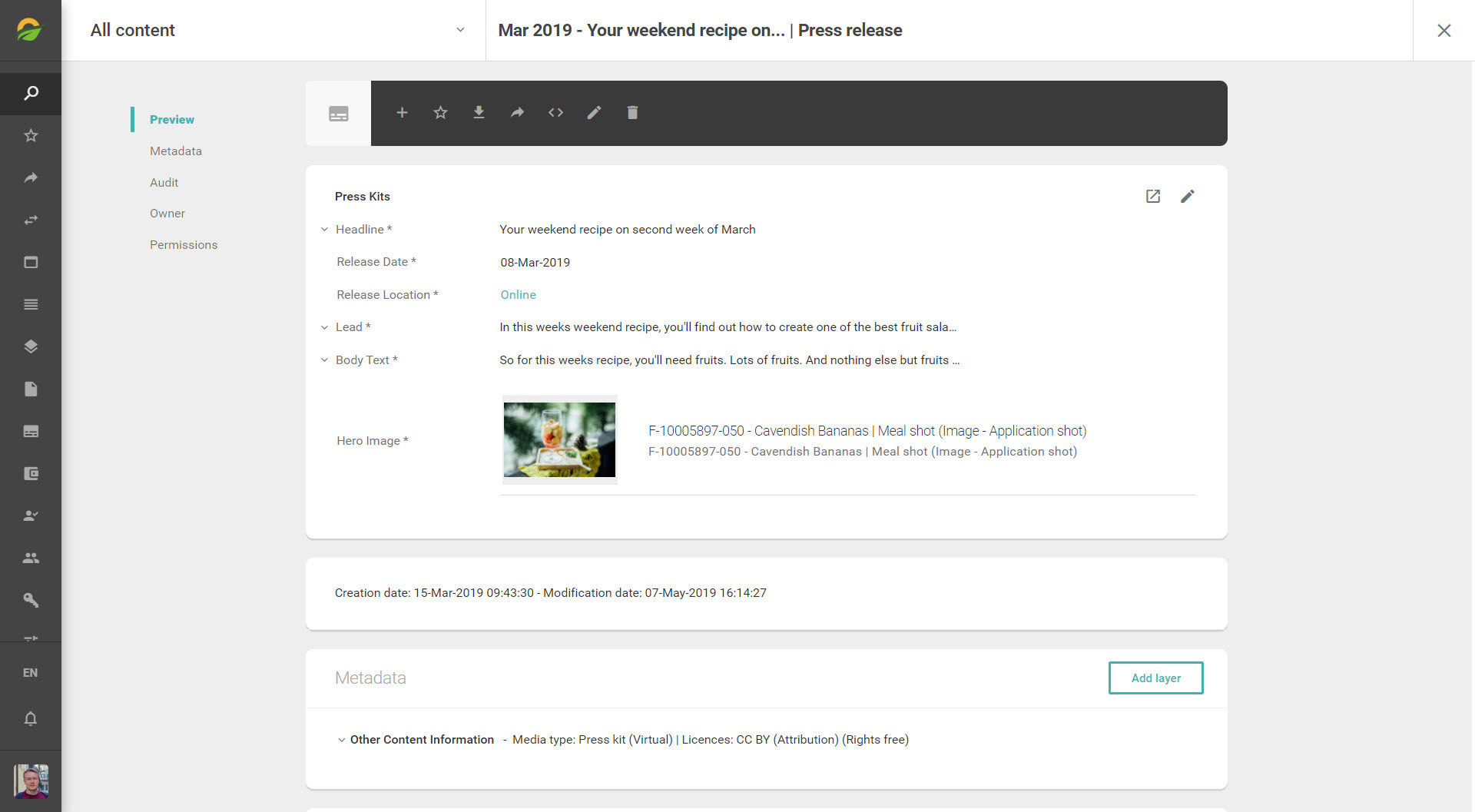 An example of a virtual content item, in this case a press kit that contains recipe information.
Press Kits as Virtual Items – The Perfect Match
FOFA initially sensed but did not truly understand the power or versatility of virtual items and how they could be utilised for a wide variety of purposes.
It was when they started using virtual items for press kits, that they realised that so much was possible in their use. For instance, they needed the press kits of their members to be available to media organisations and directly to journalists. Beyond this, they also needed these press kits to be distributed to news organisations and social media management platforms, in a headless way. This needed to be done at the same time as the news would be released live on FOFA's own website and those of its partners too.
This guarantees a proper workflow, with clear steps, delivered in a well orchestrated way.
There are a variety of different safeguards in place to ensure that press kits are delivered to the correct audience. Each press kit and all connected pieces of content can be permitted on an individual basis, ensuring that they are not released before they are both finished and approved. These features give FOFA granular power over the use of their content and enable adherence to a specific workflow. For example, FOFA farmers can create their own press kits for news and events but these will only be released after receiving full clearance from more experienced editorial staff. This guarantees a proper workflow, with clear steps, delivered in a well orchestrated way.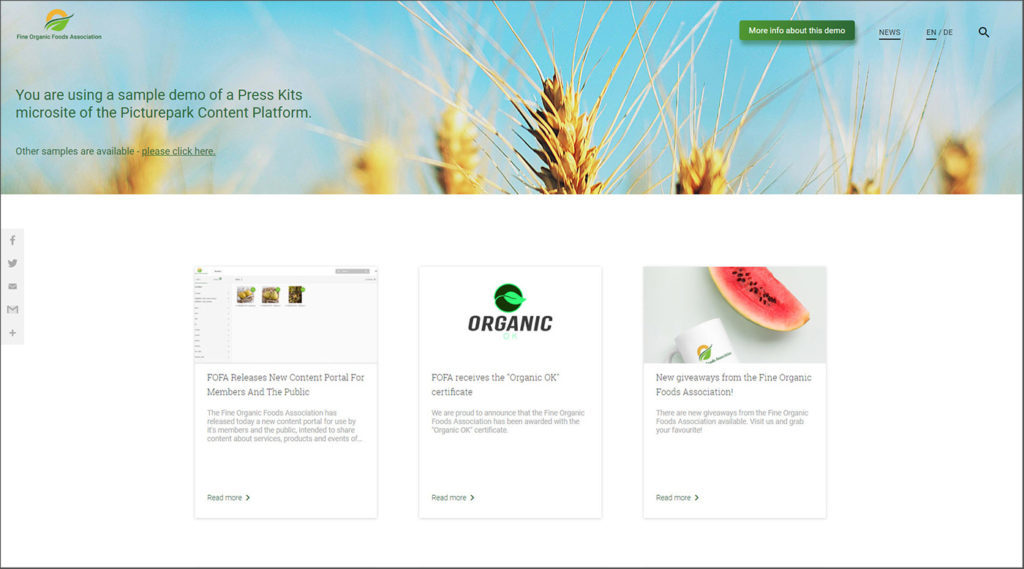 A glimpse of the Press Portal, complete with press releases & ready-made news updates.
Additional Use Cases for Virtual Items
Another use of virtual types that FOFA is particularly excited about is using them for organisational 'Milestones'. These will be published as part of a wider milestone app and microsite; showcasing important developments and key points-in-time for the organisation. Tracking progress all the way from its founding, right up to the present-day.
It will be built using a dedicated custom schema, which will capture all strictly structured milestone information. This will will allow end consumers, journalists and other interested parties to see a snapshot of FOFA; why it exists and its history. This will heighten levels of trust, understanding and bonding.
Additionally, FOFA are also exploring how they will be able to use virtual content it for the purpose of managing other types of master data (MDM). Providing an all important single source of truth in key areas of content management is very important. This includes areas such as disclaimers, pre-prepared statements on a range of issues and up-to-date boilerplates for each of its members. Once these areas are centralised, it makes reference and use much easier, as well as guaranteeing that all can access the same and most up-to-date source of information.
An area where FOFA is already using virtual content items is for "featured content", on a landing page. This teases content categories to visitors from the Content Portal, a microsite through which FOFA members and other stakeholders can access various types of content; all of which has been approved and is ready for reuse. Read more and see samples from the Content Portal in this blog, where we show you how a microsite can be set-up effectively.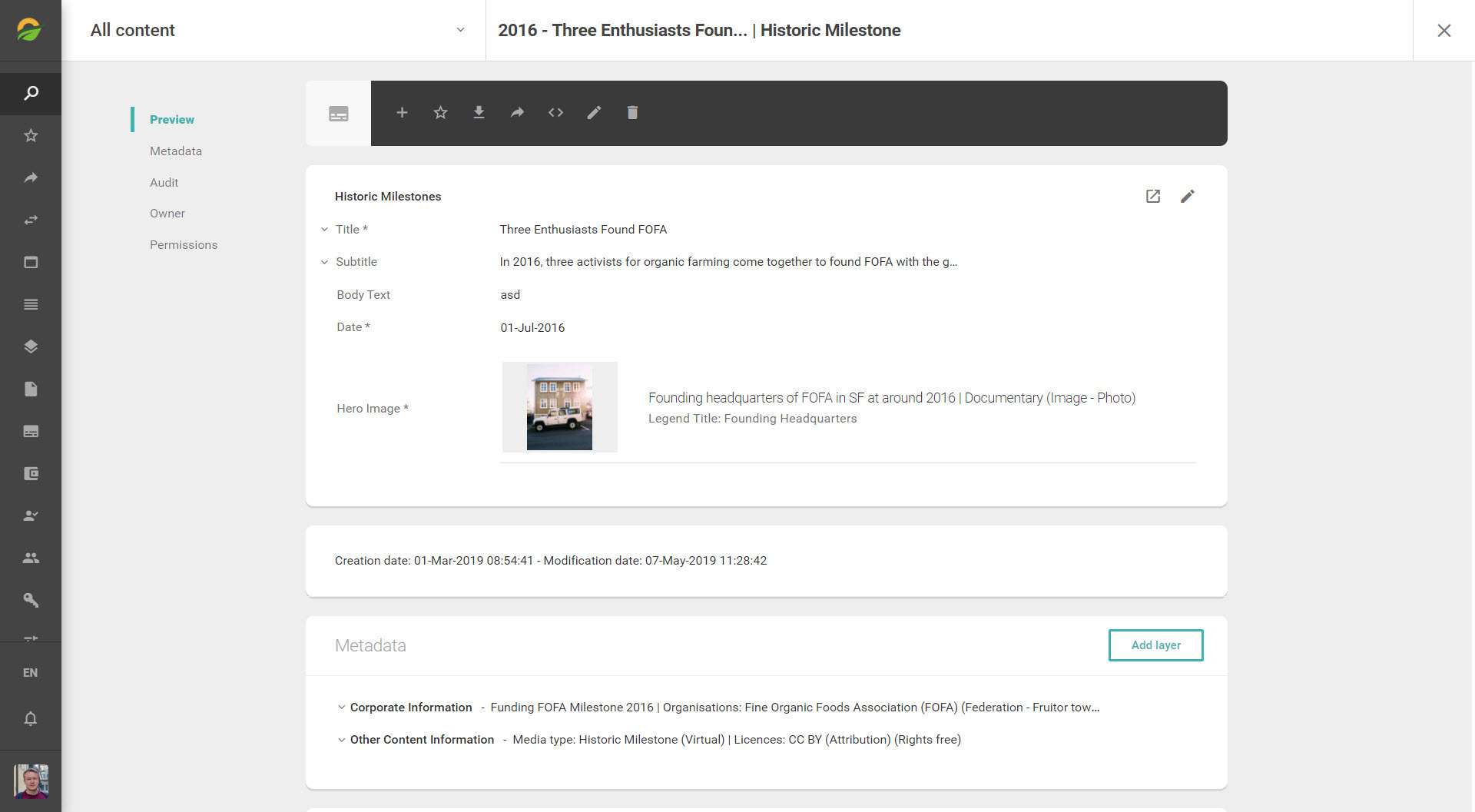 Historic milestones, such as this, are also managed through the use of Virtual Types.