By Picturepark Communication Team • Nov 06, 2017
The task of managing product information for thousands of products is daunting. When that content is localized into multiple languages, the task becomes exponentially complex.
Add to that adherence to policy and regulation, complex approval and publishing requirements, and product family relationships, and it is no wonder there are enterprise class software systems designed specifically for the management of product information.
Sample of Product Data
Name
Family
ID number
Release date
Lifecycle stage
Description
Available markets
Link to warranty information
Links to images and videos
Link to compliance information
Links to Photoshop, Illustrator or other creative formats used for boxes or advertising
Suggested price
On the other end of the spectrum are those companies that manufacture only a few hundred products, or less, or whose product information requirements are less complex. The need to have official, accurate and complete product information is no less important for these firms, but their requirements are far less extreme. As such, the time, resource and financial commitments requirement to deploy a dedicated product information management system are often not available.
Building on the master data management capabilities of the Picturepark Content Platform, product information can be created and managed in the system, just like any other master data.
Data sets take no time to configure into the Content Platform. They be edited by any authorized user, localized into as many languages as you need, and published to multiple output channels. If you have different data set requirements for various products, Picturepark's Adaptive Metadata™ technology makes that easy to accommodate and manage.
Even better, you can build product ontologies that provide relationship information between your products. For example, individual products can be associated with a central product family that provides default propagated metadata values to "child" products. New products can be associated as replacements for end-of-lifed products. One product can be referenced as a more advanced version of another, and "you might also like" suggestions can be provided to browsing users.
The Content Platform helps structure product data in a controlled way, providing a reference via single tag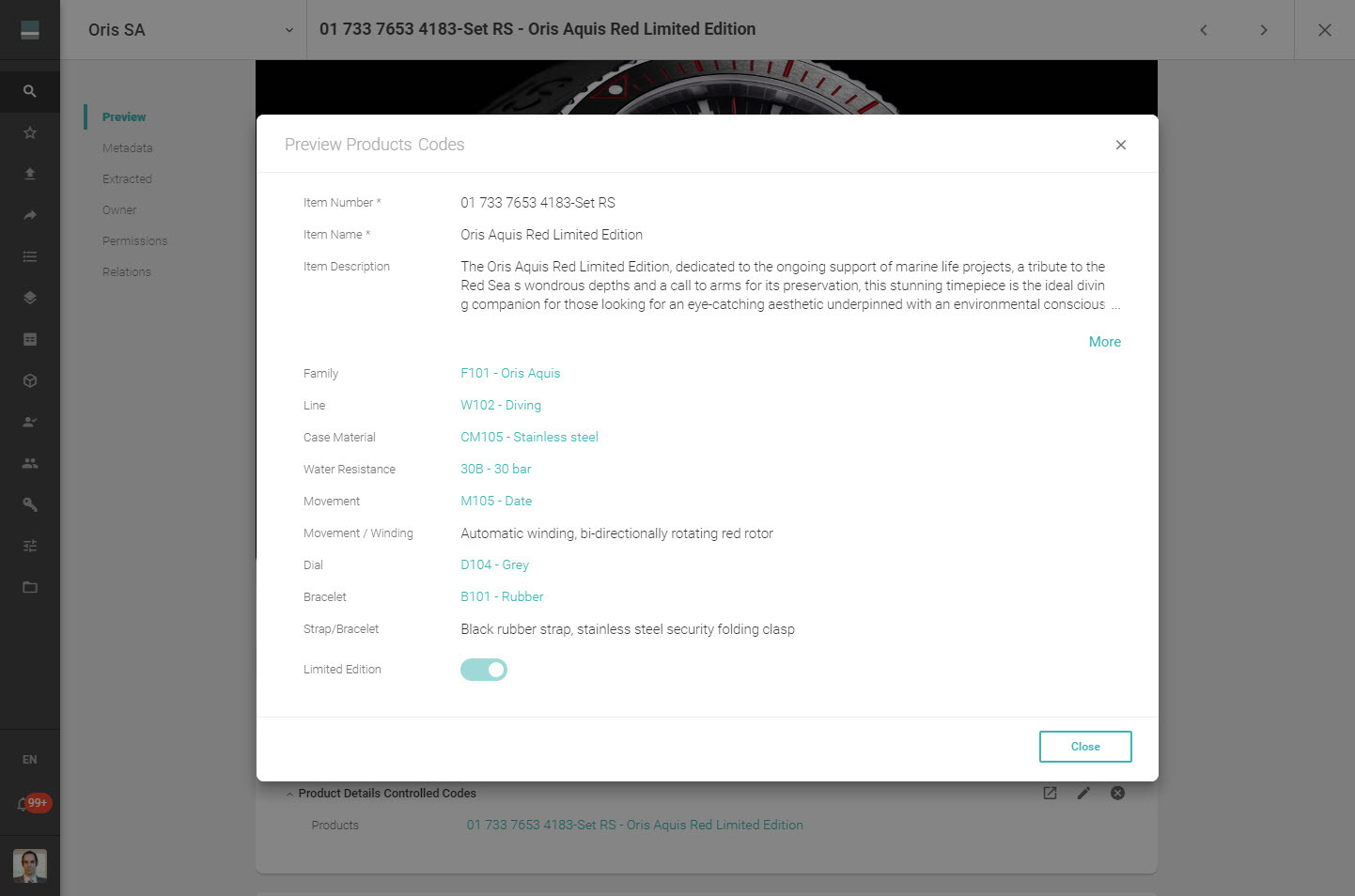 If your core product data, such as SKU numbers or pricing, are managed using an enterprise resource planning (ERP) system, those numbers can be automatically fed to the Content Platform, ensuring the ERP remains their master data source. Where the Content Platform is the master data source, it can provide content to downstream systems, such as your website or mobile apps.
The goal is that there is never more than one "master" system for any given content value, and that each value can be moved where it needs to be.
Meanwhile, all visual and download content related to your products, such as product shots, box shots, training videos, user documentation and support materials, can be managed alongside the master product data. Everything is linked, so every piece of product content serves as a trail to everything else.
The result is that core product data, along with descriptive information, images, video and everything else can be managed in a single system.
If the size of your product catalog rivals Amazon's, or if the complexity of your product line can be compared to that of Nestlé, there is no question that a dedicated PIM system is a good idea. If not, the benefits of managing product data in the Content Platform might be significant.
Continue reading the next article in this series or choose from the articles listed below.