Enterprise Digital Asset Management
Enterprise digital asset management solutions should deliver what the name implies—an enterprise-wide solution that's scalable, robust, standards-based and suitable for global deployment.
Enterprise Digital Asset Management
Re-engineered for the Enterprise
The Picturepark core architecture was redesigned in 2007 specifically to meet the needs of global deployment. Since then, Picturepark has been installed in a number of large multi-national corporations, where it runs 24/7, serving hundreds of thousands of users.
Picturepark DAM software now runs on the same engine that drives SharePoint, Sitecore, Microsoft Dynamics CRM and countless other enterprise-favored business solutions.
Designed for Growth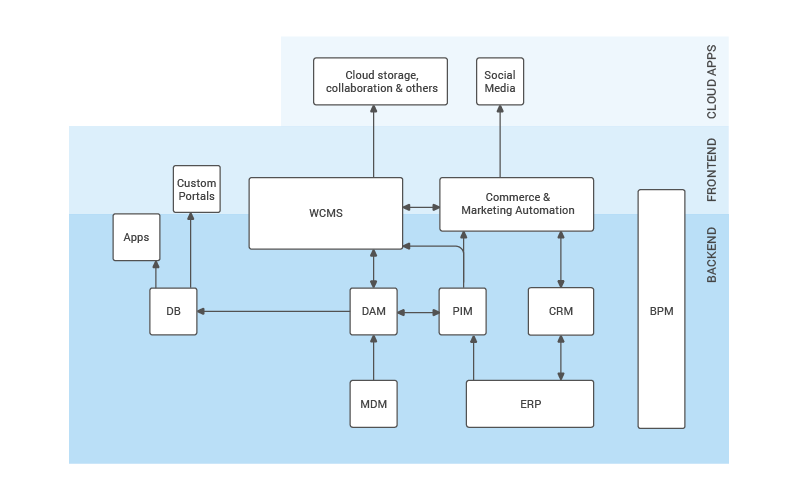 In addition to built-in support for load-balancing and hot-standby failover clustering, Picturepark's service-oriented architecture (SOA) makes it easy to offload specific services to clustering nodes for improved performance. This means your video and image rendering, workflow processes and more can be sent to dedicated clusters that crunch those numbers and return results—all without impeding the real-time aspects of your system, such as user interface responsiveness. Best of all, no "hacks" are required to realize any of this functionality because the software was designed for it.
Built for "Best of Breed" Integration
Picturepark's .NET framework and Web Services API make it a natural partner to other enterprise business systems that could benefit from access to digital asset management services. CMS, CRM, marketing automation, and PIM systems are just a few examples. The "back doors" your development teams need are available, and everything is documented for faster, easier deployment, and long-term maintenance.
Host to Multiple Stakeholders
Picturepark natively supports multi-tenant deployment, which means your system can be partitioned for use by departments, offices, subsidiaries or partners who each need their own users, rights and metadata schemas, and more. Security is increased because Picturepark honors the virtual wall between each stakeholder, and digital assets and taxonomies that should be shared across multiple groups can be shared.
For increased independence, you can even launch multiple instances of Picturepark. Create your own private Cloud, or offer digital asset management as a revenue-generating service.
All Picturepark stakeholders and instances can be managed from a single, browser-based connection.
IT-friendly Technology
Enterprise IT departments feel at home with Picturepark because Picturepark DAM solutions are based on technologies they already know and, in many cases, have already deployed. This means there's less learning curve and less resistance to the installation and support of a new system.
Even when you run Picturepark from the Cloud, it's good to have a system that is based on technologies your tech people understand and trust.
What's more, because Picturepark is browser-based and requires absolutely no proprietary client-side software, updates are easy and user training and support is minimized. You won't need to wait for an update that makes Picturepark work with the latest version of Mac OS X, and you won't need to worry about which version of Windows or Linux your users are running. If they can run a Web browser, they can access and use Picturepark.
Unlimited Web-based Users
Picturepark offers unlimited access to Web visitors. Using permissions that you control, Picturepark can be used to share or publish assets to the entire planet, without costing you anything extra.
If brand is important to you, your Picturepark Web interface can be designed to support your brands while it serves the specific functionality you need. A single Picturepark can be used to support multiple brands, so prospects, customers and press professionals always see the logos and colors they expect.
Enterprise digital asset management requires more than a product named "Enterprise." There are only a handful of DAM solutions on the market that are truly enterprise-ready. Of that lot, none is built on a more modern architecture than Picturepark, and none is more affordable.